January 2, 2005

So much to write about, so little time to write! I sit here, my tummy getting bigger as baby Bogott grows and grows and grows. Three more months and a new little one will join the Bogott generations. Although the doctor tells us he is 99% sure this one is a girl, we haven't bought anything pink yet. Grandma B. was ahead of us in that one. Names? This time is much more difficult for some reason. Aaron keeps coming up with such silliness as Penelope, Buttercup, and Chiquita!?!? Timothy just pats my tummy and says "La, la", (the Russian diminutive for infant) or "Baby". Maybe we should just name her Abigail La Chiquita Bogott, and then we can all be happy :). We are all looking foreword to her arrival with great joy and expectation, well mom and dad at least are. I don't think Tim understands what momentous change is about to hit his centered little world in about 3 months time. His only concession to change is sitting next to mommy when she reads him a book, rather than on my lap as room is running out. My heart's desire is to not loose track of those precious moments together in the crazy busyness of caring for a newborn. He is such a precious joy to me and our "snuggle" times are some of my favorite moments during the day.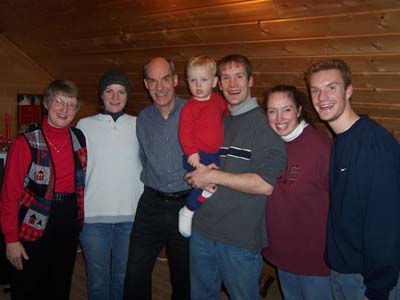 Timothy wailed in fear and clung to Papa as our plane lifted off for the beginning of our Norway Christmas adventure. My spirits rose with the craft as we left the dark weather and dirty streets of St Petersburg behind us. Thoughts of Christmas with loved ones in a land that actually celebrates the birth of Jesus filled my mind. Mom and Dad Bogott gave us the lovely gift of celebrating Christmas in Norway by paying for three round trip tickets to meet them and Amy and Jon in this land of the Fjords and mountains. Included were a trip to the lovely town of Bergen and a small trip through the mountains and Fjords called "Norway in a Nutshell"




We were met in Oslo by a young University student who offered us beds for the night. Her hospitality and graciousness was a huge testimony of God's love to us. And then it was off to meet the family at the airport the next day! Aaron and Timothy went to the airport to meet Grandpa and Grandma and Auntie Amy. On their return, Tim promptly went to sleep and woke up feverish and vomiting. For the next five days he struggled with vomiting and diarrhea as we traveled from one part of this lovely country to the next. The worst day was in the charming bed and breakfast in Bergen, where he vomited profusely all over their antique rugs, down comforters, and feather pillows in a record six upheavals. Our dear hostess kept bringing in towel after towel as we attempted to protect their furniture and bed from his sudden upchucks.





Through the upset stomachs, diarrhea, vomiting and colds, we had a wonderful time and Christmas in Norway!!! A family who gets sick together sticks together. Luckily, not everyone was sick at the same time and we saved a lot of money on food as no one really had an appetite the final week of our trip. Some of the highlights…There was waking up on Christmas morn to the beautiful sight of soft falling snow with several inches already on the ground. The sweet smell of flavored coffee greeting us in the morning, coupled by beautiful surroundings and a quiet so peaceful, I forgot what it was like to live off a busy street. The towering snow clad cliffs on either side of us as we made our way up the Fjord to catch a mountain train back down to Oslo. There were candles in the windows of every home; music played in the stores, smiles on faces all around us. Donna and I browsed the bookshops, looked longingly at the candles and decorations and kept our money firmly in our pockets due to the extravagant prices of everything we saw. And last but not least, Timothy learned how to say AAAMEEE in reply to his coaching aunt. He now repeats it over and over when asked. These are memories I will treasure, holding them closely in my heart.

God has given us an incredible gift in the form of His Son. He has also given us families who know and love Him … a rich heritage of righteousness upon which to build. Both Aaron and I have had the privilege of growing up being instructed in God's word, learning at an early age the love which God has for us. It is now our responsibility to pass that knowledge and love on to our children. This is where peace is, this is where the blessing flows. May all of you find peace and rich blessing in this coming year. You will find it in the presence of God, in the shadow of His wings.

Much love to all of you!!!!